How the Amazon of Africa made $578 million in sales last year
The Complete Jumia User Acquisition Funnel Breakdown
Jumia is probably the most popular tech startup in Africa, named by MIT last year as one of the 50 smartest companies in the world. And becoming Africa's first unicorn in 2016, Jumia is widely regarded as the Amazon of Africa seeing that it's the largest e-commerce website in Africa based on GMV(Gross Merchandise Volume), it does merit that right.
In this marketing study, we'll be evaluating each of Jumia's traffic channels, identifying key success elements. I'll also be highlighting how each of these channels can be optimized to yield better results.
This article is primarily for digital marketers, growth hackers, founders and any other person interested in learning what makes Jumia's customer acquisition strategies so great and discovering key areas they could level up in.
Please note this is a pretty in-depth case study, so I'd recommend you devour it with a cup of hot choco. So come with me as we explore this fascinating world of Jumia together.
Table of Contents:
Part 1: Brief Overview of Jumia business
The Jumia e-commerce platform started operations in 2012 in Nigeria and since then has expanded into 14 countries on the continent. With foreign investments from Goldman Sach, AXA, MTN and AIG running up to a sum of $767.7 million the highest of any startup in Africa.
Drawing 2.2 million customers in 2017, €507 million in revenue and a YOY growth rate of 41.8% from 2016 to 2017, there is a lot to be learned from this 6-year-old startup.
The Jumia's Unique Value Proposition (UVP)
In the book "The Everything Store", which documents Amazon's incredible growth. Jeff Bezos, the founder of Amazon states a couple of requirements for a general online store to succeed. And these ideas seem to be the guiding factors behind how Jumia functions today.
Some of the ideas stated are:
To offer the highest possible number of products on your store, so if customers can't find what they are looking for offline, they'll definitely find it in your store. Jumia currently offering over 5 million products from both international and local sellers, seems to be doing this pretty well.
To offer the same retail prices has conventional offline businesses but beat them on convenience i.e. fast deliveries to customers.
Jumia is still trying to finding its footing in this regard which is very understandable due to the poor logistic conditions in Africa. Jumia currently delivers orders on an average of N1,000 ($3) per product. But with the introduction of Jumia Express, they now offer free shipping when customers order goods worth more than N10,000 ($30).
We hope to see them offer free shipping on all orders in the nearest future.
An Overview of Jumia's Current Marketing Funnel
We'll be taking an in-depth look at all of Jumia's acquisition channels. We'll also be using industry standards to determine how well each channel is performing.
Here is an overview of Jumia's traffic flow
Now let's know how each traffic channel is performing.

Part 2: Social Media Breakdown
6.58% (213,192 visits/month)
What Jumia has been doing this year with its social media presence has been really interesting to watch.
The first lesson you learn while building a brand on social media is:
"People don't come to social media to buying stuff, they come there to laugh, smile, explore and connect"
They've been approaching social media with the right attitude. And pushing the right products through the right channels without being too salesy at the same side.
They've found a way to create content leveraging on trends and culture-specific behavior which keep the audience constantly engaged.
Influencer Collaborations
Jumia understands that Instagram is a highly visual channel, so they doubled down on the kind of content they produced on the platform.
Deciding to promote more of its lifestyle and fashion products on the platform which has led them to work with several fashion influencers on Instagram.
Selecting popular influencers like:
Jislof (24k followers/4.8% Engagement rate)
Timini (126k followers/7.10% Engagement rate)
These are just a few influencers Jumia signed up, there are still a couple more. But as you can see each of these influencers not only have a large follower base but also have highly engaged audiences too, which is far more important.
Not only did Jumia work with these influencers to create content for their brand, but each of the influencers had a Jumia link in their bio. Turning the campaign into a possible channel for direct sales.
Recommendations for Instagram
When clicked the link placed in each of the influencers bios take the visitor to Jumia's homepage where they several every kind of product. But better results would be yielded if instead each of the links took the user to Jumia's fashion page, which was already on the customer's mind when they clicked the link.
And if Jumia wants to take it up a notch: each of the influencers should be given a customized web page where fashion products that they're most likely to wear be curated and sold there.
This is the same strategy already being used by ASOS, Europe's largest online fashion store, who's already working with about 29 influencers from all over the world.
YouTube
Jumia's YouTube game like most brands isn't as incredible though judging by the average number of views they get per video. If you'll look closely at the interval between each of their video, you'll realize that they are putting in a lot of effort into creating content.
As you can see most of the video are created in a vox pop style. Which has become a very popular style of video in Nigeria.
Recommendations for YouTube
Reaching A New Demographic
Although 98 million users are currently online in the country according to NCC (Nigerian Communications Commission), only a few percentage of Nigerians have actually bought anything online, judging from the numbers released by Konga.com, Jumia's closest rival: stating that it had only 184,000 active customers in its last 6 months of operation in 2016.
Jumia can focus on converting the vast majority of internet users into active shoppers by creating short-form video ads (10-30 secs) depicting how people in the same demographic are using Jumia to make their lives easier.
The same strategy was used by Amazon to create awareness for its new Echo device.
Real-World Scenario
A middle-class working mother can be targeted with an ad showing her how a mum just like her orders groceries from Jumia because she's too exhausted to go to the market after work.
YouTube Influencers
Unlike other social media platforms, Youtube has a higher buyer intent. This is because, on other social media platforms, we go with an intent to explore and discover. But on YouTube, we are more specific as to what we want to watch or know, which is one of the reasons why YouTube is the second largest search engine in the world.
Users are further down the buyer's journey because they already know what they want or at least have an idea. With this in mind, the same way Jumia utilizes influencers on Instagram, it should do the same on YouTube. This time working with YouTubers across various categories that talk about products specifically for needs unique to Nigerians.
YouTubers like:
If you looked carefully at most of their videos you'll notice that although they tag the products they showcased in the video, there aren't any links to buy them from, which Jumia can utilize.
Part 3: Direct Traffic Analysis
44.14% (1,425,600 million visits/month)
Refers to the number of people who accessed the Jumia website by directly typing in its URL. It's significant in helping to determine customer brand loyalty. When a large percentage of your traffic is direct, it shows that you're at the top of your customers' minds.
Evaluation
*How does Jumia stack up against the industry benchmark
It's just a little above the average for B2C at 44%.
This is a good sign that Jumia is on a lot of people's minds when they're looking for a place to shop.
Improvements to Direct Traffic
One of the key value propositions Jumia takes advantage of is its huge selection of products.
One of the ways Jumia can use this offer to drive more direct traffic is by using low-cost stickers pasted around select small-scale retail stores.
So in-market audiences with an urgency to buy a certain product can be redirected to the website to find what they are looking for when it's not available offline.

Part 4: Email Marketing Performance
5.39% (174,636 visits/month)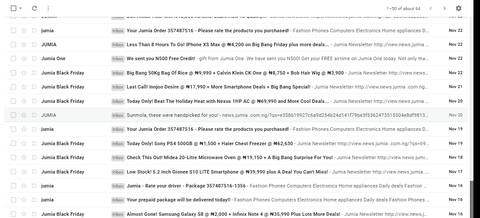 As you'll notice, Jumia sends out a lot of emails an average of 2 per day and it can very well go up to 3 during shopping events.
Here are all the types of emails they send out:
Welcome Message
Promotional: Deals of the Day
Order Confirmation email
Order shipment email
Welcome Message
This is the email that's immediately sent to you when you first register on the platform.
The goal of this email: It is not really to push for sales but to get you to trust the brand enough to shop regularly in the future. It shouldn't be about pushing sales immediately because now that they have your email, they can send the customer promotions for all of eternity (or at least till you unsubscribe)
What they got right:
Clean design template, no cluster.
Single CTA ("Start Shopping Now") to increase CTR.
Lovely animation ("Deals of the Day") to pull customer attention.
What they could do better
Since the aim of this email as I said before isn't a sale, it's for the customer to look forward to their promotions in the future and to build stronger trust between the customer and its brand: this should be more emphasized by doing the following:
They could scrape out the menu options, to make room for more content
The copy used to introduce their brand here is quite uninspiring. Instead, perhaps a story about the brand and how it started in the first place would be more engaging to the audience.
It would be more effective if the email could give us more emphasis on "Deals of the day" and why you should look forward to checking it out every day.
Lastly, in order to optimize this email, metrics like CTR, shouldn't be KPI, instead, the open rates of the next 5 or so emails should be tracked and measured to gauge the performance of the email.
Promotional: Deals of the Day
The idea is absolutely brilliant, showing highly discounted products for that day. The consumer is more likely to take action because there is a strong sense of urgency behind it (the deal only lasts for a day).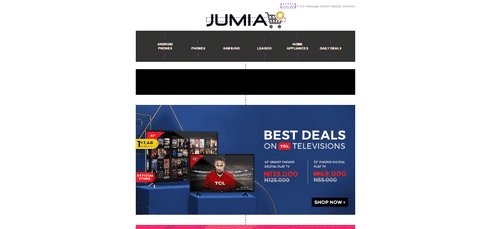 What they got right
Again the email design is top-notch and vibrant.
Jumia is smart to leverage on the popularity of its e-commerce brand to cross-promote its travel bookings platform, Jumia Travel.
Solid promotion of Jumia Express (equivalent to Amazon Prime) at the top of the email.
What they could do better
The major recommendation I have is regarding the "Selected Just for You" section, their attempt at customer personalization. I think that there is still a lot to be done in that area seeing that I have little to no interest in all of the products recommended.
Learn more about e-commerce personalization engines here.
Order Confirmation Email
Nothing fancy about this email it's really just to inform you that your order has been confirmed and being processed.
Order Shipment Email
Just as the name implies the purpose of the email is to inform the customer that their order has been shipped and approximately how long it'll take to arrive at their location.
What they can do better
Jumia could add a section to upsell products that complement products in the order that just shipped. According to Amazon, 35% of its revenue comes from upselling and cross-sells in 2016
Here is an example of how they do it:
Recommendations for Email Marketing
Segmentation is an aspect that deals with personalizing the user's email experience, it involves dividing your email list into different segments based criteria like what stage the consumer is in the sales funnel, the users' demographics, e.t.c. So essential each user receives emails more relevant to them.
So take, for example, Mark constantly views products regarding computer and electronics, Jumia would crafts emails specifically showing him and others in that segment deals regarding the best deals in that category.
Mark as also being an active buyer from Jumia from over the past year placing an average of 3 orders per month, this just indicates that Mark is further down the sales funnel and is a loyal customer. Jumia could send out emails to him and people in that segment with incentives to get them to share the Jumia experience with their friends.
Segmentation in this age and time is no longer a luxury it's a necessity especially while running a location-focused store like Jumia.
If you would like to learn more about segmentation, I have linked some resources that might help at the end of this article.
Many visitors come to Jumia to browse for products they might be interested in but leave without placing an order may be because they got distracted. A system should be devised to reach out to these visitors (if they were logged into the store at the moment of browsing) reminding them of the products they were checking out and links to get them back.
It's basically like remarketing with ads but this time it's free.
Part 5: Closing Recommendations and Remarks
Due to the fact that Jumia is not a niche-focused business but a location-focused business which I believe puts them somewhat in a more difficult position.
This is because you have less room to define your pricing, leading to lower gross margins, plus sales are based less on brand loyalty and are more intentional: the customer already knows what he wants, he's not particular whether or not he buys it on Jumia as long as he can get it at lowest prices and most convenient means.
I believe for Jumia to thrive it needs to focus on one particular key offering: Limitless Products
Jumia should focus on diverting offline buyers who cannot find what they are looking for offline to its platform by setting up affiliate partnerships with multiple small and medium-sized retail outlets.
The concept is currently being adopted by Walmart, who offers the customer a way to purchase products on its online store when they cannot find it in its departmental stores.
Real Life Customer Scenario
John is an artist and is currently looking for a digital drawing pad for a project. He goes to Computer Village, despite the hot scorching sun, he scours through 4 stores trying to find it, but still no luck.
At the 5th store, he doesn't find it but the store personnel (while also be registered as a Jumia offline affiliate), brings out his smartphone, searches Jumia for the item and recommends the customer order it from there.

Part 6: Supplementary Resources
For those looking to go a step further in exploring some of the concepts discussed in this article.
Email Segmentation:
Influencer Marketing:
E-commerce Product Recommendation Engine:
Converting E-commerce Window Shoppers (Tool)
Part 7: Notes
Know anyone that works at Jumia, you should let them know about this article. Thanks for reading, if you have thoughts and more strategies you can always leave a comment down below, let's talk!
And if you want to know more about me and what I do click here.